How to run an effective air pollution campaign in the post-COVID era
The COVID-19 lockdowns have given us cleaner air to breathe – but these gains could just as easily fade away.
How can climate activists maximise this opportunity to push for lasting change around air pollution?
This new research reveals the most effective type of campaign – and when to run them.
In December last year, The Global Alliance for Health and Population (GAHP) found air pollution to be the largest cause of premature death worldwide. India alone accounts for over 2 million deaths every year, and 21 out of the 30 most polluted cities in the world are in India.
Fast forward to the coronavirus lockdown, and the narrative about air pollution is very different. It starts with relief, joy and hope – highlighting blue skies, reduced levels of PM2.5, the ability to breathe, and wildlife sightings that have not occurred in years!
However, when the world opens up, there is a high probability that our gains in air quality will fade away.
How can climate activists use this opportune moment to incite collective action on air pollution?
Collective action often starts with effective campaigns and collaborative initiatives. Clean Air Fund, in partnership with Quilt.AI, analysed 30 air pollution and public health campaigns and 65 organisations that work on these issues in the Indian context. Read Quilt.AI's research here.
We studied 21 million searches and over 10,000 social media posts on air pollution. We ran these through artificial intelligence models on linguistic analysis, object detection and culture analysis, and produced insights on what makes an air pollution campaign in India effective.
The three most effective types of campaigner
We found five broad profiles of air pollution campaigners: Candid Scientist, Bridge Builder, Local Crusader, Global Activist, and Fear Monger. Out of these, Bridge Builder, Local Crusader and Fear Monger were found to be most effective in digital campaigns.
1. The Bridge Builder highlights the connections between their issue and popular, mainstream ones in order to bring the spotlight to their own focus area. Flexible in their communication style, they use a spectrum of messaging, aiming to appeal to everyone. Their quest for genuine collaboration comes across in their wide variety of narrative, a balanced mixture of messaging types (for example, logos and posters, formal events, and community activities) and retweeting powerful content on hot-button issues that bring attention to their own cause. To them, air pollution can be solved by having a more informed society with a strong sense of community.
2. The Local Crusader uses simple but emotive messages in local languages with unfiltered pictures of successful community projects to invoke feelings of success and community. They use a combination of symbolism and moving images of community action to stir nationalistic sentiment and urge individuals to act together. We see this reflected in the second most-popular factor, as determined by our AI models: Emotional (12,588 data points). Terms like "rich soil", "abundant water", "lungs", "mother Cauvery", "beating heart" and "dream" dominate the list of commonly used phrases. To them, air pollution can be solved by galvanizing individuals into communal action.
3. The Fear Monger, to date, is used for political campaign strategies. What works is its two-phased approach: first, the population is divided with hate and fear-filled rhetoric. Second, the supporters of the campaign are pushed towards collective action on key issues. A continuous feeling of inclusion is presented as a reward for group loyalty. Presence on every digital platform is heavy and multiple online and offline behaviour change strategies are used. Some of these include taking over real estate timelines on public platforms and redirecting online search behaviour. To them, air pollution can be solved by waging a war (shaming and using negative rhetoric) against the "polluters".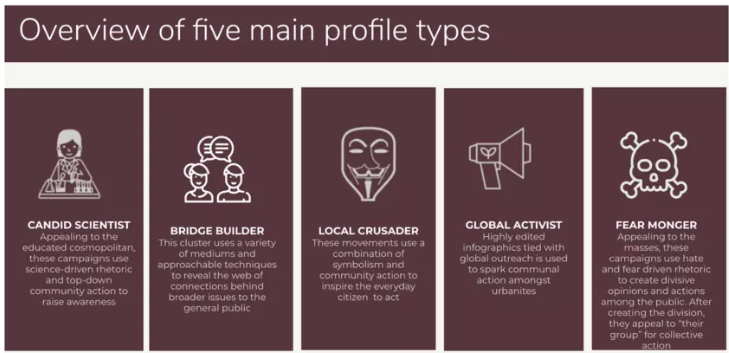 Factors influencing campaign effectiveness
Social media reach and engagement influences the effectiveness of digital campaigns. Looking at the Facebook pages of organizations that drive these campaigns – including a calculation of their followers and number of likes for climate content and campaigns, and their tweets and retweets to understand how much original content these organizations create – gave us insight into their social media reach and level of online engagement.
Search behaviour demonstrates that the timing of campaigns are crucial, as are the air pollution-related terms people are searching for. We found that both the search volume and rate of change for the following air pollution-related words rise significantly between the months of October and January each year (based on a trend analysis from 2015-2019): "air pollution," "causes of air pollution," "air purifier," "effects of pollution," "PM2.5," "Diwali pollution," and "anti-pollution mask".
Further, the majority of campaigns we analyzed are launched in May – but based on search behaviour, it is more strategic to launch in October and finish by February of the following year.
As more and more lockdown restrictions are lifted globally, we cannot lose momentum in influencing the public discourse on air pollution and retaining the positive impact of lockdowns on the environment. We need to incite collective action to have serious online and offline conversations on adopting more sustainable lifestyle measures that can help curb air pollution – today.
This article was first published on World Economic Forum and is reprinted with permission.
A partnership with the World Economic Forum is in place to protect public health by mobilising multi-stakeholder action on ambient air pollution. The Forum will build a cohort of leaders to catalyse corporate and political will; create a shared set of tools and facts for prioritising actions; drive thought leadership; deliver concrete action as well as share lessons learned.