10 May 2023
Doctors make the case for clean air in Bulgaria
The problem
Bulgaria has one of the highest rates of premature deaths caused by air pollution in the EU. The country's reliance on coal-fired power plants for domestic heating, industry and transport releases toxic air pollution. Burning coal produces huge amounts of CO2 which contributes to the climate crisis. Alongside the health and environmental impacts, dirty air costs Bulgaria nearly 30% of the country's gross domestic product in reduced productivity and healthcare costs from treating related diseases.
Air pollution is a public health emergency. Yet until recently the issue was not a major public concern and the political will to address it was low. Globally, air pollution is the second leading cause of deaths from non-communicable diseases after smoking. But the medical profession in Bulgaria has not taken a public stance to lower air pollution.
The solution
Doctors play a crucial role in protecting the nation's health. Medical professionals can offer advice to their patients on the dangers of air pollution and how to avoid exposure. Air For Health, a public health network based in Sofia, united medical professionals across Bulgaria to make the case for clean air to the wider medical profession, their patients, the general public and policymakers. By equipping doctors with the tools and training to campaign, they became powerful ambassadors in the fight against air pollution.
The network is formed of health professionals with a range of specialities including: pulmonologists, cardiologists, endocrinologists, dermatologists, psychiatrists, general practitioners, infection specialists, neurologists, pediatricians, oncologists, anesthesiologists, allergists, and gynecologists, as well as medical students. Together they demonstrate that no part of the human body is unaffected by air pollution. Since launching in 2018, the network has spread awareness of the dangers of air pollution to their patients, the public and policymakers.
Over the last two years, the small non-profit has punched above its weight. They have organised webinars, public events and engaged in advocacy. These activities include:
A large-scale innovative campaign that raised awareness of air quality issues in Bulgaria. The campaign captured people's attention through eye-catching creatives that had messages written in ink made from smog. Air For Health also wrote letters using the 'smog ink' to policymakers and influencers demanding action to implement regulations that promote clean air. This campaign partnered with three major media outlets and resulted in 10,000 views online. The campaign was delivered with proof.
A public event in Pernik, Bulgaria's most polluted city, raised awareness of the impacts of air pollution with the city's population.
Outreach to medical students to educate the next generation of doctors about the impacts of air pollution.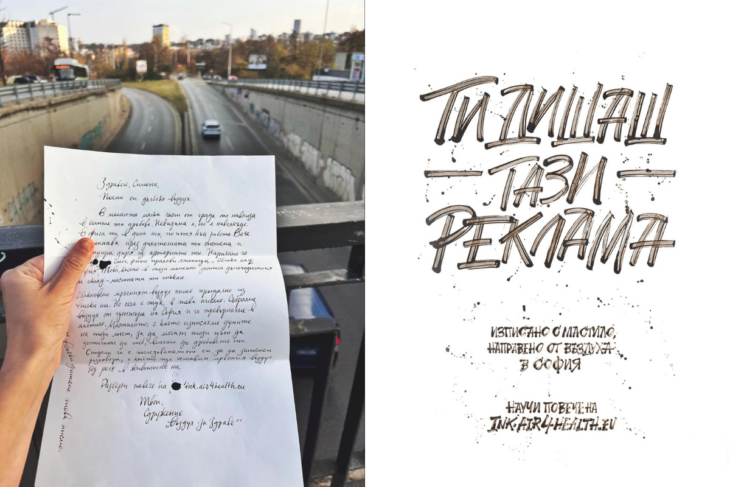 To improve health and wellbeing across the country, Bulgaria would need to implement strong clean air policies. Governments use data from healthcare professionals to make decisions that affect public health. Air For Health's network shared first-hand data revealing the stark impacts of air pollution on patients with policymakers.
As part of their advocacy work, Air For Health identified policy gaps where interventions to tackle dirty air could save lives. The group wrote a series of recommendations for the Ministry of Health to reduce the huge burden of air pollution on the national health system. Doctors officially presented these recommendations during a parliamentary roundtable and follow-up meeting between the doctors' network, the Ministry of Health and the Ministry of Environment. As a next step, they hope to secure a Memorandum of Cooperation between the network and both ministries.
The impact
Air For Health has built a powerful network of influential advocates calling for better air quality across Bulgaria. As a result, the general public and medical profession are much better informed on the dangers of air pollution. So far, Air For Health has expanded its work to nine Bulgarian cities. With a successful model in place, the organisation aims to grow its network to cover the entire Balkan Peninsula.
After a series of meetings with policymakers, Air For Health hopes that air pollution may soon form part of national health strategies. Air For Health will continue to advance its advocacy work to strengthen clean air policies at a national and international level. Through stronger policies on air pollution, it hopes to avert millions of premature deaths.
In Bulgaria, air pollution causes thousands of premature deaths each year. Doctors can use their unique platform to educate their patients and the public about the dangers of air pollution. We envision a network of doctors across the Balkan Peninsula who will drive the policy change we need to clean up our air and improve everyone's health.

Denitsa Ivanova, Vice-Chairperson Air For Health
Main image at top: Doctor Teodora Nikolova, a cardiologist, holds one of the letters to policymakers written with smog ink. Credit: People of Sofia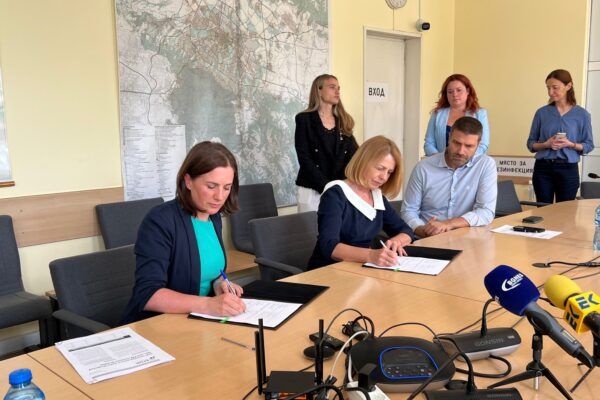 Breathe Sofia: new initiative to clean the air in Bulgaria's capital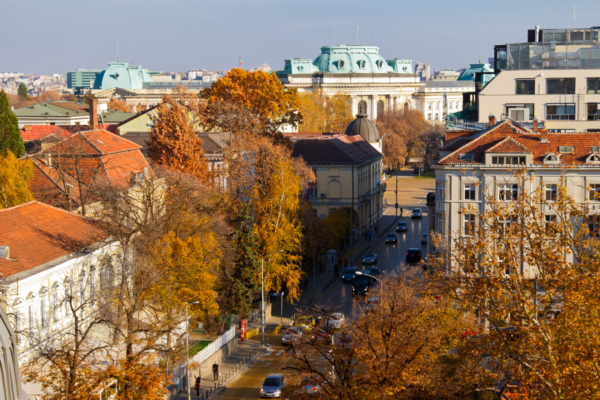 Impact of air pollution on career decisions of the highly-skilled workforce in Sofia