19 August 2020
Helping India's health workers become clean air champions
The problem:
Air pollution causes more than 2 million deaths a year in India, more than any other country in the world. But there is too little understanding of its causes and health impacts, or political will to address it.
The solution:
The Clean Air Fund supports grassroots efforts to monitor data and mobilise action, whilst also giving health workers and officials the tools to show the damage it does. This enables them and others to call for joined-up policy solutions which also tackle related problems like climate change and poverty. By supporting the health sector to become a leading voice for clean air action, we aim to change the narrative on health and air quality in India.
Our grant to Health Care Without Harm builds on the pioneering efforts of Dr. Arvind Kumar to build a network of health workers who can act as clean air champions for patients, policy makers and the wider public.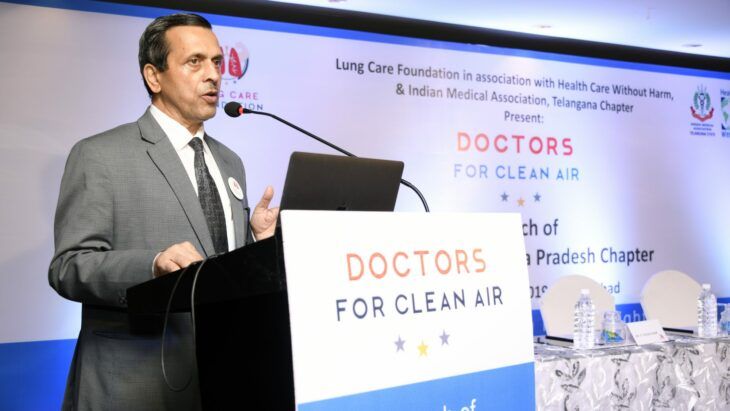 This grant includes four key program areas:
Joining the dots between health, energy and climate change policy making, and equipping health workers to lead calls for a transition to clean, renewable energy.
Supporting hundreds of hospitals and health professionals to use air quality data and monitoring tools.
Mobilising doctors across India to lead the fight against air pollution in their regions, with the ultimate aim of making air pollution a national health issue.
Supporting major health institutions to take action to reduce their own emissions, and articulate why they are doing this to lead a general shift towards cleaner air policies.
The Impact:
Some highlights of this grant so far include:
A report which found that communities living near coal-fired power plants in Korba, Chhattisgarh's capital, are twice as likely to suffer from respiratory diseases. This garnered significant media coverage in publications such as Times of India and the Indian Express. Following the report, the relevant state Minister called for immediate steps to control emissions including mandatory Health Impact Assessments for any new industries in the region. Additionally, HEI India is working with Chhattisgarh's State Health Resource Center on a pilot study on the intersections of air pollution and health. You can read the Time of India article here. You can read the Indian Express article here.
A citizen-led initiative which found extremely toxic chemicals in 20 out of 27 locations in Bengaluru. The report, "Choking in the Garden City" led experts to call for a well-designed and resourced health mitigation plan in addition to strict source specific pollution reduction action plan. Read the 'Choking in the Garden City report here.
Work with a network of 100 hospitals in India's most polluted regions to monitor air quality, and communicate health impacts to patients. This includes developing modules and webinars for doctors which can be used and referenced in their day-to-day interactions with their patients.
The project will continue to advance on the four pillars of work through to 2022. We will expand the network of hospitals in India working on building a clean air narrative, recruit more professionals to the Doctors for Clean Air network, and expand our grassroots engagement with communities in the hardest hit regions.