12 December 2023
Clean air events at COP28
World leaders will convene at the UN Climate Change Conference of Parties (COP28) in Dubai, United Arab Emirates, from 30 November to 12 December, to build consensus and facilitate progress on climate action.
The first-ever Health Day and health inter-ministerial meeting is a significant step forward for recognising the co-benefits of cleaner air for public health and climate action. A transformative COP must deliver deliver tangible progress to end all fossil fuel subsidies, which currently inflict enormous damage on climate and health.
We've rounded up sessions, talks and side events that will explore the transformative role of clean air in climate change and health outcomes. We will update this list regularly, so if you're hosting an event on clean air, please get in touch.
30 November – 12 December: Pollution Pods
Location: Blue Zone, Dubai Expo Center
The Pollution Pods at COP28 are a series of geodesic domes containing carefully crafted environments for visitors to safely experience air pollution levels from three cities: Beijing, London and New Delhi. A fourth pod showcases solutions to clean up the air we breathe. Designed by British artist Michael Pinsky, the pods simulate specific levels and types of air pollution, allowing people to feel, taste and smell the environments that are the norm for a huge swathe of the world's population. A carefully mixed recipe emulates the relative presence of ozone, particulate matter, nitrogen dioxide, sulfur dioxide and carbon monoxide which pollute these cities.
30 November – 6 December: Air Bear (Saathi)
Location: Various
Clean Air Fund will fund the travel of the Save the Children Air Bear to COP28, accompanied by a Nepali youth activist. The Air Bear is a campaign developed by children in Nepal who were concerned about air pollution, and decided to raise awareness of this by travelling around the country with a 12 foot white bear (Air Bear), to see how it changed colour as a result of the air pollution.
30 November (13:00 – 14:00): Unbearable heat and unbreathable air – finding win–win solutions for climate and health.
Location: SDG Pavilion, Blue Zone
World Health Organisation (WHO) event co-hosted with Clean Air Fund, World Bank South Asia and World Bank South Asia. This event will explain how extreme heat and polluted air, are the most direct outcomes of climate change and its drivers on health, and suggest win–win solutions, arguing for greater inclusion of health in the UN Framework Convention on Climate Change (UNFCCC) agenda. Find out more.
1 December (14:30-15:30): The Case for Action on Black Carbon
Location: Cryosphere Pavilion, Blue Zone
The lack of action on black carbon represents a huge, missed opportunity for mitigating near-term warming and avoiding climate tipping points, particularly in cryosphere regions. Co-hosted by Clean Air Fund and the Center for Study of Science, Technology and Policy, this side event will explore opportunities to resolve bottlenecks preventing work on black carbon, alongside the launch of a report. Find out more.
2 December (13:45-14:30): Breathe Cities: Leading Action for Clean Air
Location: Blue Zone at Bloomberg Local Action Summit
Co-hosted by Clean Air Fund, Bloomberg Philanthropies and C40 Cities, this event will announce the new cohort of cities taking part in the Breathe Cities initiative. It will also emphasise the urgent need to tackle urban air pollution and the benefits that cleaner air brings to health and climate. Find out more.
3 December (11:35-12:15): Accelerated Action on Air Quality in Urban Areas: A Solution for Climate Mitigation and Improved Health Outcomes
Location: Blue Zone
Clean Air Fund and the UAE Ministry of Climate Change and Environment will co-host a panel discussion, showcasing how accelerated action on air quality in urban areas and on a city-level can deliver fast climate mitigation and improved health outcomes. This event aims to make air quality an explicit priority for city-level climate action and is integrated into commitments. It will also spotlight best practices in air quality monitoring and reduction on a global scale. Find out more.
3 December (08:15 – 09:30): Scaling up finance for climate and air pollution together: A matter of health
Location: SE Room 1 Dubai United Arab Emirates
This event will spotlight the connection between climate and clean air, showcasing solutions to reduce short-term climate pollutants and promote health and sustainable development. Curated by the UNEP-convened Climate and Clean Air Coalition, involving over 80 countries and non-state actors, the event will also call for increased finance for climate and air pollution. Find out more.
3 December (09:00-11:00): Health Day Flagship Opening Event: Unpacking Political and Financial Commitments
Location: Al Waha Theater, Blue Zone
COP28 UAE Presidency, in collaboration with WHO, the Wellcome Trust and partners, is hosting the first-ever Health Day at the COP28. This flagship event will be the official opening of the first ever Health Day at a COP.
3 December (16:30-17:30): Coffee and conversations: How can businesses tackle air pollution?
Location: ICC Partner Stage, Blue Zone
Hear from industry leaders during a coffee break organised by the Clean Air Fund, Inter IKEA Group and the Stockholm Environment Institute in partnership with the International Chambers of Commerce (ICC). The Alliance for Clean Air supports businesses in understanding their impact on air pollution with a recently launched guide developed by Climate and Clean Air Coalition, Inter IKEA Group and Stockholm Environment Institute. As many of the sources of emissions are the same, businesses have a unique opportunity to measure and take joint action to reduce air pollution as a key component of their climate plans. Key-note speeches by Par Stenmark, Chief Sustainability Officer of the Inter IKEA Group, one of the companies using the guide to measure, disclose and reduce their air pollutant emissions across their value chain; and Sean Maguire, Director of Partnerships and Communications at Clean Air Fund. Networking opportunities with current alliance members and other industry leaders will follow the keynotes (tea, coffee and pastries provided). Find out more.
3 December (17:00-18:00): Heat, Air Quality and Early Year Programs: Potential of Insurance, Chief Heat Officers, and Other Cross Sectoral Initiatives
Location: Greening Education Hub, Green Zone
The event will focus on indoor air quality in schools, early-year programme potential of insurance, Chief Heat Officers and other cross-sectoral initiatives. Panellists will discuss immediate actions and solutions that can be implemented across the globe, along with findings to influence the infrastructure of future schools. Clean Air Fund CEO, Jane Burston, will reflect on how air quality is affecting the wellbeing of young children and their families.
3 December (18:00-19:15): Achieving Multi-wins in Environment, Climate and Economy through Synergy co-control of air pollution and climate change
Location: China Pavilion
Hosted by Energy Foundation China, Center for Environmental Education and Communications (CEEC) of the Ministry of Ecology and Environment, China. The event will gather representatives from government, industry enterprises, cities, research institutions, and NGOs to discuss coordinated carbon and pollution reduction policy. The aim of this event is to enhance multi-stakeholder consensus, form joint efforts to respond to climate change and push forward policy implementation to improve the environment. Find out more.
6 December (15:15 to 15:40): Breathing for a Better Tomorrow: Engaging Health Professionals and Civil Society For Clean Air and Healthy Climate
This session will bring together public health and human rights experts, civil society, and concerned citizens to strategise interventions against air pollution and climate change. The event will emphasise the profound impact on noncommunicable diseases, proposing a paradigm shift toward a sustainable, fossil fuel-free future. The event aims to shed light on the twin threats of air pollution and climate change, showcasing their interconnectedness and advocating for urgent action. The economic costs of air pollution-related health impacts, exceeding $8.1 trillion in 2019, underscore the need for immediate and comprehensive human rights consistent measures.
8 December (11:30-12:30): Maximizing co-benefits of mitigation and adaptation actions with NDCs
Location: UNFCCC Pavilion, Dubai, United Arab Emirates
Co-organised with UNFCCC, Clean Air Fund, Climate and Clean air Coalition, Berkeley Air Monitoring Group, Orbis Air, this session will focus on how NDCs can be used to promote multiple co-benefits with climate mitigation actions. Countries have a variety of options and potential projects to meet their NDCs. The co-benefits associated with different mitigation actions will vary and may be emphasized given a country's priorities. After welcoming remarks and framing the session, two short technical talks on SLCP cobenefits will be presented, followed by a panel discussion on some of the practical considerations of NDCs and co-benefits. Find out more.
8 December (14:00-15:30): International Roundtable Discussion on Air, Climate and Energy: Catalyzing practical actions at a halfway point
Location: EF China Pavilion
Hosted by the Energy Foundation China, the Institute of Carbon Neutrality at Tsinghua University, and the China Clean Air Policy Partnership. The aim of this roundtable is to unite efforts to combat local and global air pollution while aligning with broader climate goals.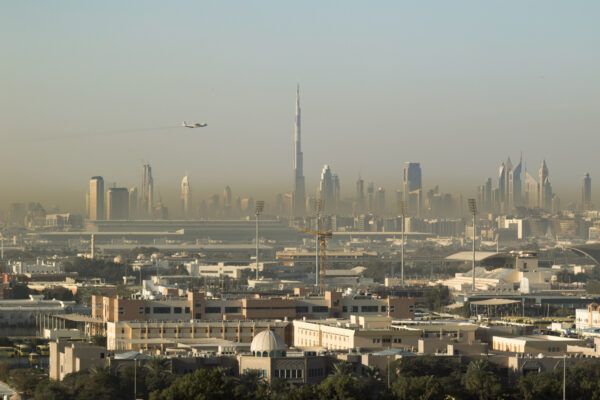 100 days to COP28: open letter urges to raise air pollution up agenda