7 clean air moments at COP26
As the dust settles on COP26, and Government delegations return to their countries to implement the decisions of the final negotiated text, we've done a round-up of clean air moments at the climate conference.
1. Pollution Pods brought the issue of air pollution to UK cities
Ten days before COP26 began, five geodesic domes – known as the Pollution Pods – appeared in Granary Square in Kings Cross, London. Created by Michael Pinsky, the Pods accurately recreate the smells and density of pollution in London, Beijing, Sao Paulo, New Delhi and Tautra (a remote peninsula in Norway), giving the public a chance to experience air pollution for themselves. Beginning in London, the Pollution Pods were then dismantled and dispersed north through Birmingham, Lancaster and Newcastle, before finishing in Glasgow for COP26 where they were a focal point for many campaigning activities. Watch a film about the pollution pods.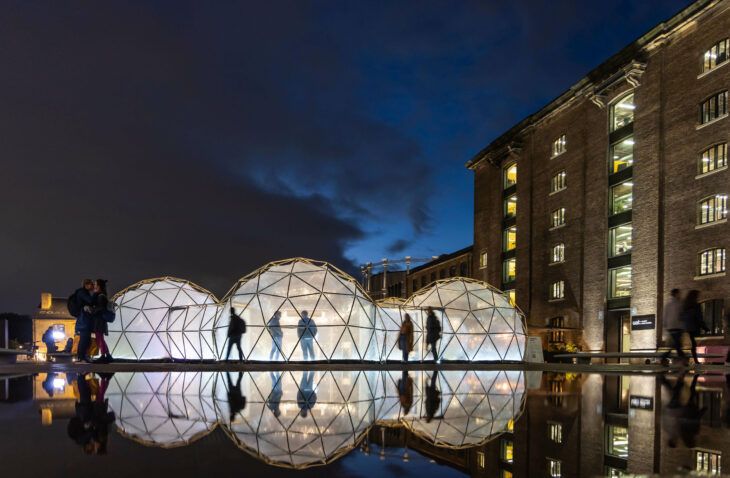 2. Healthcare professionals cycle 800km to Glasgow for healthy air and planet
As COP26 got underway officially, 30 determined paediatric healthcare professionals arrived in Glasgow by bike, having pedalled 800km from Great Ormond Street Hospital in London to Gartnavel General Hospital. The doctors, nurses and other health colleagues undertook the #RideForTheirLives to highlight the dangers of climate change and air pollution and the need to protect children's health from toxic air. Their journey was also mirrored by the World Health Organization's Diarmid Campbell-Lendrum, who cycled from Geneva to Glasgow. The group delivered a 'healthy prescription letter', signed by around 450 organisations representing a total of 45 million health workers. They noted: "Air pollution, most significantly from burning fossil fuels which also drives climate change, is causing more than seven million premature deaths each year, that's 13 deaths every minute. Forest fires, waste burning, and harmful agricultural practices are also polluting our air and lungs." The letter called on governments to take climate action now "to protect the planet, and the health, wellbeing and prosperity of all people alive today and for generations to come". Read the full healthy prescription letter.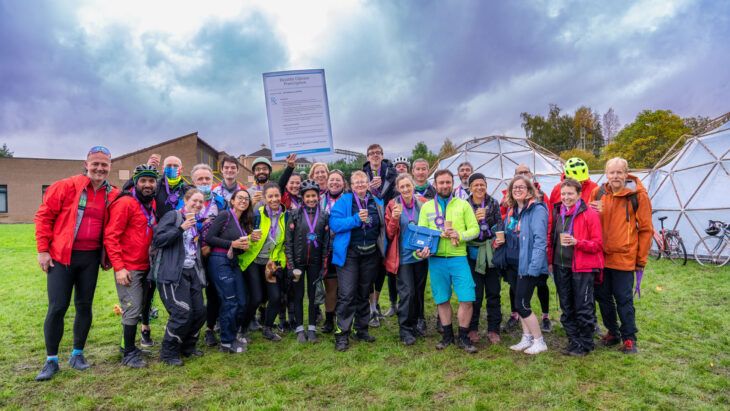 3. Sadiq Khan to replicate Breathe London across C40's 97 cities
On Tuesday 2 November, at an event in the heart of Glasgow city, London Mayor Sadiq Khan – who recently took over as chair of the global network, C40 Cities – announced his intention to scale up the Breathe London project to the 97 cities in the network. Under the banner of #BreatheGlobal, he explained that there would be targeted high-level support for seven mega-cities with the worst levels of toxic air. The roll-out will see the cities making use of hyperlocal air pollution data for policy-making in order to reduce emissions in urban areas. The Breathe London network has helped identify unexpected pollution hotspots in the UK's capital, and implemented local policy measures. Find out more about the Breathe London project.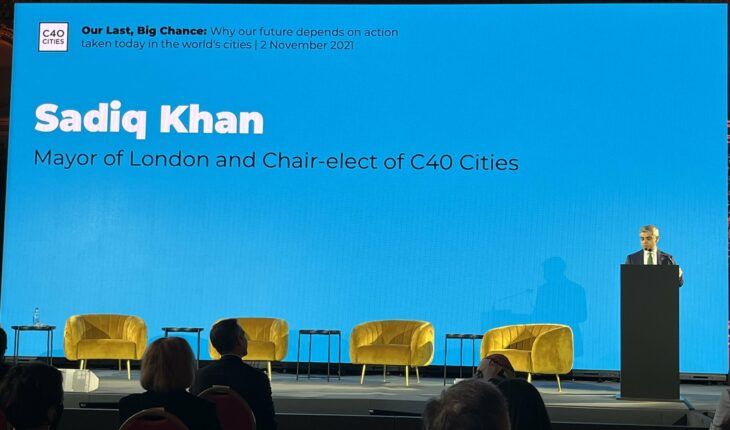 4. Alliance for Clean Air launches to tackle private sector air pollution emissions

On Wednesday 3 November, in the Blue Zone's Business Pavilion, the World Economic Forum and Clean Air Fund announced the launch of the Alliance for Clean Air – the first global corporate initiative to tackle air pollution. The Alliance has 10 multinational companies as founding members: Accenture, BioGen, Bloomberg, Google, GoTo, IKEA, Maersk, Mahindra Group, Siemens and Wipro. They have committed to measuring and reducing air pollution in their operations and supply chain, using their assets innovatively for clean air solutions and championing the issue in their communications. Find out more about the Alliance for Clean Air.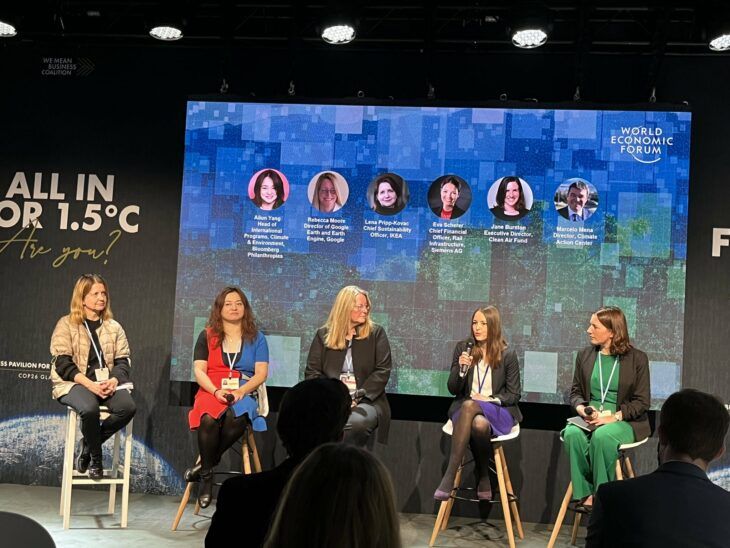 5. Mothers worldwide call on leaders to clean up the air for children's health
On Friday morning, a powerful group of mothers from around the world got together to call on leaders to tackle dirty air and protect the health of children. First thing, a delegation led by Rosamund Adoo Kissi-Debrah, met with UK COP26 President Alok Sharma to deliver their open letter signed by around 500 parents groups from 44 countries. Adoo Kissi-Debrah was later quoted as saying: "We put Alok Sharma on the spot and played him a soundscape of children fighting to breathe. He genuinely looked moved – we think he shed a tear or two." This meeting was followed by a panel discussion in the New York Times Climate Hub, and a press conference with a group of mothers from six different countries speaking about the impact of air pollution on children. Find out more about the parent mobilisation at COP26.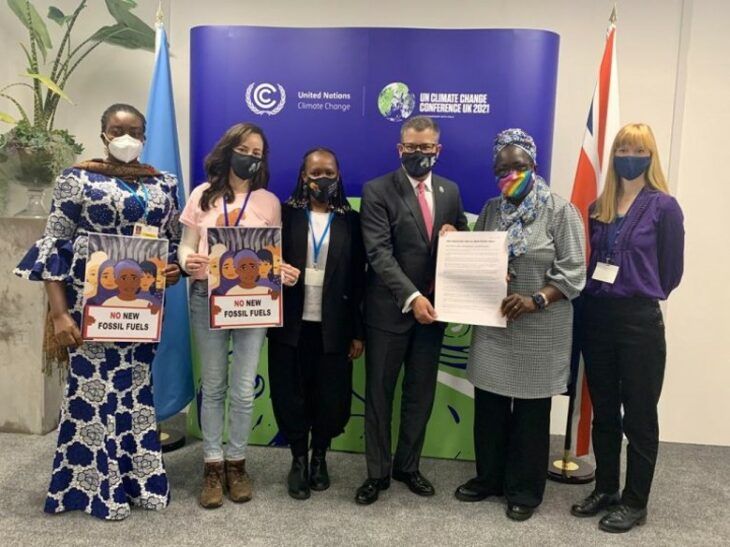 6. Julia Gillard calls for a global health and climate strategy at WHO Conference
At Glasgow Caledonian University on the middle weekend of COP26, the World Health Organization brought a much-needed health focus to the climate conversations at their Health and Climate Conference. Julia Gillard, ex-Prime Minister of Australia and new Chair of health foundation, Wellcome Trust, called for a new global health and climate strategy and urged world leaders to take action to minimise climate-related illness and death in the coming decades. Speaking to conference delegates, she said "What sometimes get missed is that climate change is also one of the most urgent health challenges facing us all today." Tackling air pollution was a common thread throughout discussions about energy, transportation, and health systems.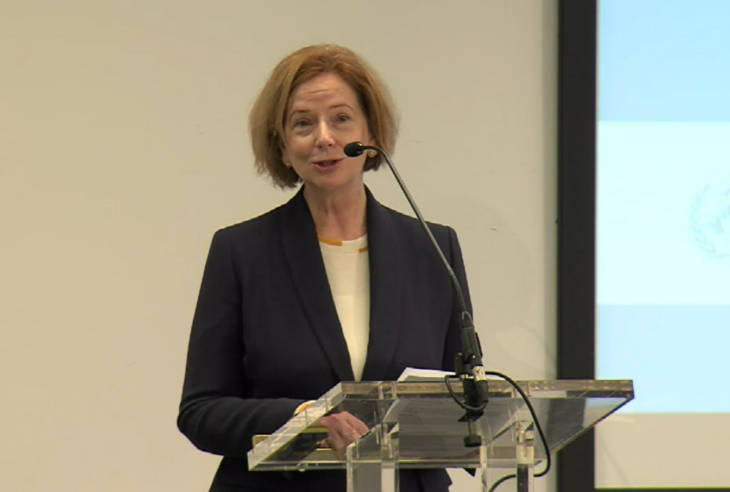 7. The World Bank reminded governments of the urgency of funding for air quality projects
During their event about air quality and climate change, organised with the World Resources Institute and Environmental Defense Fund, the World Bank convened a crucial conversation on how to increase funding for air quality work globally. During the panel, Executive Director of Clean Air Fund, Jane Burston, quoted research that showed that: "Less than 1% of official development finance, and less than 0.1% of philanthropic funding, is currently spent on the issue. Worse, in 2019 and 2020, development funders spent 21% more on projects that actually prolong fossil-fuel use than clean air projects." The event called for leaders at COP26 to catalyse clean air efforts around the world to simultaneously achieve climate, health and sustainable development goals. Research reference: The State of Global Air Quality Funding 2021.