Celebrating the women making clean air a reality
While air pollution has no boundaries, its burden falls disproportionately on marginalised communities. This year's International Women's Day 2023 theme invites us to #EmbraceEquity and imagine a world that's diverse, equitable and inclusive.
At Clean Air Fund, we work with a variety of inspirational women who work tirelessly to make clean a reality. Today we are celebrating six women and organisations who are driving meaningful change in the clean air movement.
Pallavi Pant, Head of Global Health at Health Effects Institute, US, has worked on science and public engagement related to air pollution for more than a decade. She focuses on urban air pollution in low- and middle-income countries, especially South Asia.
I always try to look for ways to make spaces more inclusive and welcoming for folks, especially as someone who's been an outsider in many rooms. I also look for every opportunity to elevate fellow women scientists and practitioners, especially from LMICs, for leadership roles on global platforms.

Pallavi Pant
Aleh Stankova is a Project Manager at the Bulgarian Fund for Women (BFW) – the only local donor that exclusively supports Bulgarian activists, grassroots groups and CSOs working at the intersections of gender and climate justice. Beyond building awareness of the disproportionate effects of air pollution on women and marginalised communities, BFW fosters opportunities for smaller organisations and those in rural regions to connect, upskill and build sustainable networks.
Our vision is that all women and girls live in a just world where their choices are respected and their voices are heard. As such, equity is at the core of our mission. We believe that the right kind of support for the collective actions of women, girls, LGBTIQ+ people and human rights defenders will lead to profound social, political, cultural, economic and environmental change.

Aleh Stankova
Tolullah Oni, Public Health Physician and Urban Epidemiologist, founded UrbanBetter to highlight the potential of lower-cost, decentralised air quality measurement through running, advocacy and youth-led citizen science. By drawing on the transformative power of citizen science, UrbanBetter boosts the accessibility of air quality data to support healthy and climate resilient cities. 
We are focused on ensuring equitable participation of youth irrespective of gender or socio-economic level which we believe is critical to ensure interventions to tackle clean air are also equitable

Tolullah Oni
Loreto Stambuk is the Director of Horizonte Ciudadano, an organisation that has taken an active role in establishing grassroots efforts in air quality measurements and action in cities across eight Latin American countries: Argentina, Brazil, Chile, Colombia, Ecuador, Mexico, Peru, and Uruguay. It has sparked a cooperative effort to develop community-driven, data-informed local action plans in underrepresented areas. The organisation also builds awareness of air quality and the need to restore urban spaces for better early childhood development.
In the future, we would like to be part of the transition to clean cooking, which would reduce harmful emissions and ensure better air quality for women and girls, who traditionally spend more time cooking and gathering fuel for that purpose.

Loreto Stambuk
Maria Lopez-Nuñez is the Deputy Director, Organizing and Advocacy of Ironbound Community Corporation's (ICC) Justice Project, US, which spans several decades of community-lead resistance against incoming polluting facilities. ICC's Ironbound Justice team has been integral in pushing forward the monumental Environmental Justice law in New Jersey, which will reduce the amount of polluting industries in overburdened communities and help existing industries clean up their emissions.
ICC's Ironbound Justice team serves the Ironbound of Newark, a low-wealth predominately Black and brown community – our mission is to co-create policy at a State and federal level that reflects the needs of our frontline community. Internally, our team is made up of women and gender-expansive people who are all from EJ communities themselves.

Maria Lopez-Nuñez
Anna Dworakowska is the Executive Director of Polish Smog Alert (PSA), Poland, an umbrella organisation gathering over 50 clean-air grassroots groups from Poland. Since it was established in 2015, PSA managed to significantly increase public awareness of air pollution and its negative health consequences. This campaigning has translated into concrete legal and financial reforms, such as coal bans in around 20 cities and towns, bans on using most polluting boilers and the first low emission zone in Krakow.
More than half of PSA employees and volunteers are women. Women play an important role in our movement. Many local grassroots that are gathered in the PSA movement are driven and led by women, who fight for air quality improvement in their local area. Their motivations vary. For some, the well-being and health of their children are the primary driving force. Others oppose the fact that one of the basic human rights, the right to breathe clean air, is being violated.

Anna Dworakowska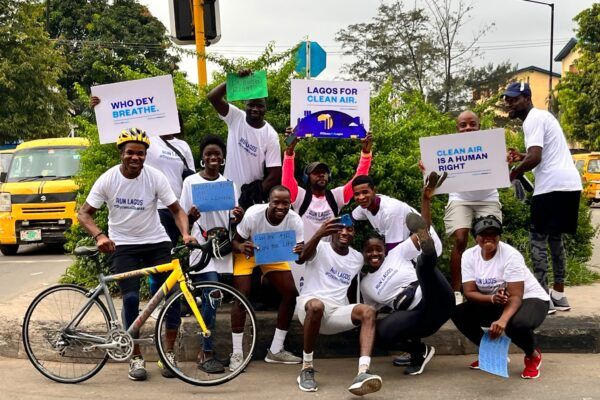 Can wearable tech and citizen science ignite youth-led advocacy in Africa?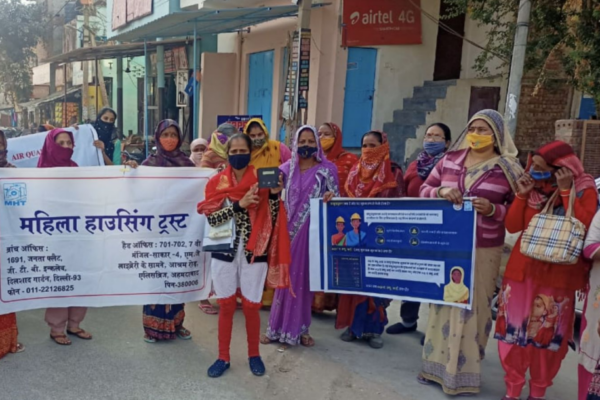 Mobilising women in construction to campaign for clean air