UK Government challenged on "weak" air pollution targets
Expressing disappointment, about the air quality target within the Government's proposed environmental targets, Clean Air Fund's Jane Burston said: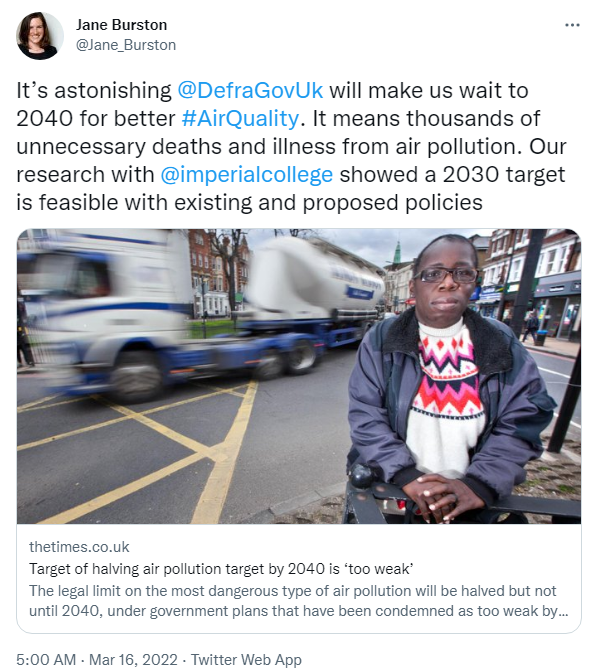 Our recent study by researchers from Imperial College London's Environmental Research group showed last month that achieving air quality within the World Health Organization's interim target, WHO-10, is both achievable and cost-effective across most of the UK by 2030 – and would save thousands of lives. The government could reach this target by 2030, simply by committing to implement in full its own current and proposed policies related to achieving net-zero and tackling air pollution. Waiting until 2040 is just not good enough. You can read the study here.
REDUCING PM2.5 LEVELS WILL SAVE LIVES
Around 30,000 people in the UK die every year as a result of dirty air. Committing to meet the WHO-10 target by 2030 would help us make significant strides in tackling this. Our research showed that reducing air pollution to these levels would have significant impacts on public health across the population. These changes could result in children across the UK suffering an average of 388,000 fewer days of asthma symptoms a year, as well as a fall in cases of coronary heart disease of 3,000 per year.
The government's proposed target is attracting criticism from groups across the UK fighting against air pollution. Rosamund Adoo-Kissi-Debrah who lost her daughter to the effect of air pollution said: "the government has failed the whole nation and betrayed my daughter's memory by proposing this incredibly weak target".
THE UK GOVERNMENT IS LAGGING BEHIND
The UK Government is lagging behind many countries that have already set ambitious PM2.5 targets. According to the WHO AQ Standards Map, in Europe, Switzerland has already committed to WHO-10.
Further afield, Canada has set a deadline for achieving WHO-10 by 2015 and want to reach 8.8 by 2020. Australia has also set out to limit their air pollution levels to 7 micrograms per cubic meter by 2015.
Clean Air Fund together with Asthma + Lung UK and other partners will be encouraging a strong public response to the consultation by 11 May 2022.