6 cross-sector collaborations tackling air pollution
99% of the world's population is exposed to toxic air (The Lancet). The global air pollution crisis is a systemic problem that cuts across borders and harms our health, climate and economy. Addressing this complex issue requires collaboration across sectors to drive sustainable transformation for people and planet.
The theme of today's International Day of Clean Air for blue skies is #TogetherForCleanAir. Today we highlight  the urgent need for stronger partnerships between sectors and beyond siloes, and increased investment in smarter solutions. Below, we explore six examples of successful cross-sector collaborations driving action on clean air.
Global expertise nurtures tech innovation for local monitoring
Air quality data is crucial for understanding and addressing air pollutants, but the reliability of monitoring technologies and microsensors varies. The annual AIRLAB Microsensor Challenge independently assesses devices to encourage the development of new and improved microsensors. The competition is open to individuals, companies and organisations, and rewards the most promising technologies for measuring air pollution at the local level.
The challenge is organised by NGO Airparif in collaboration with the French Development Agency, the Swiss Federal Materials Testing and Research Laboratory, and the World Meteorological Organization. Each entry benefits from the expertise of an international expert jury to improve the performance of devices year on year. The challenge also helps garner interest in microsensor usage across different regions.
Businesses join forces to increase transparency on air pollution
The Alliance for Clean Air brings together major multinational businesses from a diverse range of industries, including transport, pharma, tech and retail. Launched in 2021 in partnership with the World Economic Forum and Clean Air Fund, the Alliance has 16 corporate members, including Google, Maersk, GSK and Oracle. The members commit to measuring and reducing their air pollution footprints across their operations and value chains. Members also set ambitious emissions reduction targets and use their assets to accelerate clean air solutions.
Alliance members adopted a first-of-its-kind guide for business to measure air pollutant emissions across value chains, developed by the Stockholm Environment Institute, Climate and Clean Air Coalition and Inter IKEA Group. Six members have now published their air pollutant emissions inventories. This is a huge step forward in increasing transparency and accountability in the private sector.
International collaboration for integrated climate and clean air policy
The Climate and Clean Air Coalition (CCAC) is a voluntary partnership that supports action to reduce short-lived climate pollutants in over 70 countries. CCAC partners include governments, intergovernmental organisations and NGOs working together to accelerate collective action towards climate goals. The coalition focuses on supporting national climate mitigation, policy analysis and convening leaders. By facilitating collaboration between governments, industry and civil society, CCAC drives transformation in key sectors that emit short-lived climate pollutants, such as transport and waste.
For example, CCAC funded the Asian Institute of Technology to develop an emissions inventory for inland water transport in Bangkok, Thailand. This led to robust recommendations for water transport, including limiting engine age and reducing idling through improved operations and route planning. This project also developed a template for other cities to assess emissions in inland water transport. While most cities focus on freight, Bangkok's integration of road and waterway public transport sets a good example for integrated climate and clean air action.
Uniting health and environmental organisations for clean air policy
The Health and Environment Alliance (HEAL) is a network of NGOs and philanthropic organisations working to promote environmental policies that protect public health. HEAL supports research studies on the health impacts of air pollution, awareness campaigns and advocacy to influence air quality regulations and policies.
HEAL has over 90 member organisations in 28 countries who represent health professionals, not-for-profit health insurers, doctors, nurses, patient groups, citizens, women's and youth groups, environmental NGOs, scientists and public health institutes. They collaborate with governments, health professionals, and research institutions to address air quality issues. For example, they collaborated with health experts in the Western Balkans to launch the region's first expert statement urging ambitious policies to reduce air pollution.
Parents, schools and government join forces to electrify buses
US community campaign group, Moms Clean Air Force, mobilised families to advocate for policies protecting air quality and public health. The group collected petition signatures, enlists volunteers for public hearings, and meets with US Environmental Protection Agency (EPA) officials to protect children from harmful pollutants.
Their advocacy efforts supported the Bipartisan Infrastructure Law, which allocated $5 billion over five years for zero- and low-emission school buses across the US. The organisation collaborated closely with school representatives, elected officials, and parents to motivate school districts to create and submit applications for a Clean School Bus Program. This investment will increase electric buses, reduce pollution, and create clean energy jobs. The group also played a significant role in passing the Inflation Reduction Act, the largest government investment in clean air and energy in US history.
A philanthropic-private-public project filling in data gaps
A philanthropic-private-public partnership supported air quality enforcement officers in Cangzhou, China to use monitoring data to identify pollution hotspots that exceeded the city's air regulations. The team built a new data platform that that integrates real-time monitoring data, using mobile instruments installed in taxis to fill gaps between fixed monitoring stations to provide a hyperlocal view of air quality.
Through the platform, pollution hotspots are automatically detected and shared with enforcement officers via a user-friendly app. Within three months of the new platform being launched, sources of pollution were detected by enforcement officers on 70% of their visits to hotspots. The project was a collaboration between Environmental Defense Fund China, the Beijing Huanding Environmental Big Data Institute, Clean Air Fund and the municipal government.
Collaboration in a crisis: Reflections from Davos 2023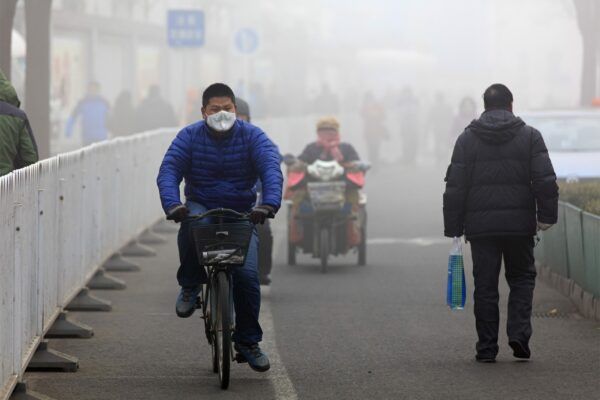 Detecting air pollution hotspots in China with tech and big data