16 November 2022
Grassroots campaigners combine research with street installations to achieve policy change in London
The problem
Air pollution takes a huge toll on Londoners' health, with an estimated 4,000 of the capital's residents dying prematurely in 2019 from air pollution. Studies show living with dirty air also increases the risk of heart disease and heart attacks, as well as stunts lung growth in children.
But the health impact of air pollution is not evenly felt. Analysis from Environmental Defense Fund Europe (EDF Europe), our grantee, found that NO2 pollution is 24-31% higher in areas where people of colour are most likely to live, compared to areas where white people are most likely to live.
The solution: a #MayorforCleanAir
In the run up to the mayoral elections in May 2021, EDF Europe mobilised groups of grassroots campaigners to demand that mayoral candidates commit to cleaning the city's air. The #MayorforCleanAir campaign was coordinated by a coalition of parents, health workers and young activists from across London who mobilised behind three specific policy asks, which were highlighted through a series of attention-grabbing stunts.
Transforming London's most polluted roads
In April 2021, a group of Black and brown teens, called Choked Up, installed 'hacked' road signs across London, highlighting air pollution's disproportionate impact on people of colour and deprived communities. The signs, which read "POLLUTION ZONE" and warned that "Breathing Kills", were installed in a guerrilla campaign in areas of toxic and harmful air pollution, including Whitechapel, Catford and Brixton.
The hacked signs were placed on the capital's Red Routes network, which are major roads carrying up to a third of London's traffic on an average day. The Red Routes network has led to an unequal health burden in the city with Londoners living, working, and going to school near these roads breathing higher and often illegal levels of air pollution.
On the same day that the road signs went up, EDF Europe published research exposing the unequal burden of London's air pollution on people of colour. The research found that NO2 pollution levels on Red Routes are 57% higher than an average road and PM2.5 levels are 35% higher.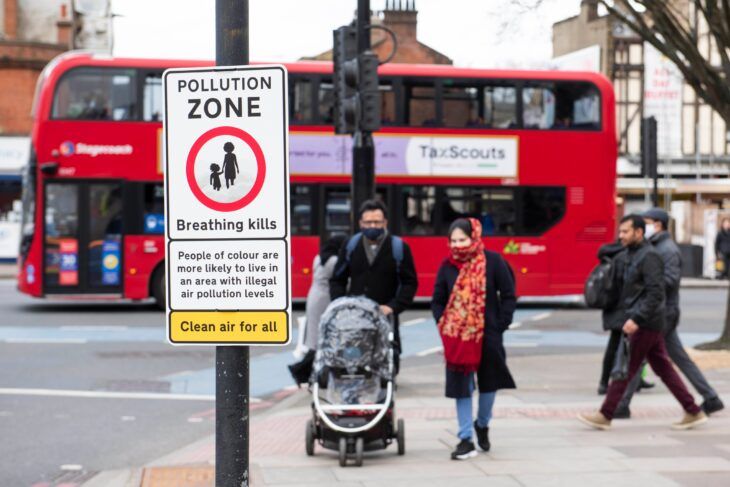 And in a separate intervention, coordinated by Medact, 100 London health professionals working in the NHS published a letter to mayoral candidates. The letter warned that air pollution is having a "devastating impact" on the health of communities of colour and those from deprived backgrounds.
The coalition of campaigners used the #MayorforCleanAir campaign to call on mayoral candidates to reduce health inequities by committing to transform the Red Routes.
Expanding the ultra-low emission zone
In Putney – another area of high air pollution – the campaign group Mums for Lungs staged a billboard with artificial 3D lungs that trapped air pollution and turned the lungs grey. By visualising the problem, campaigners exposed the unequal impacts on one of London's most polluted roads, which is also the boundary of London's planned ultra-low emission zone (ULEZ).
On the same day the lungs went up, EDF Europe published research exposing the unequal burden of London's air pollution on schoolchildren. The research found that in some areas of the capital, as many as one in five primary schools are by major roads, where children breathe NOx pollution levels that are on average 25% higher than primary schools not by major roads.

Cleaning up the city's buses
Diesel bus pollution hotspots are disproportionally concentrated in areas where marginalised communities live and work, like Kingston. The #MayorforCleanAir campaigners plastered stencils nursery-rhyme playground stencils in Kingston, which highlighted how the burden of diesel bus pollution hits young lungs and deprived communities the hardest. They also called on mayoral candidates to commit to zero-emission exhaust bus fleets in London as soon as possible.
Again, the stunt was backed up with EDF Europe analysis that NOx pollution from diesel buses in London is 62% higher in the most deprived areas compared to the least.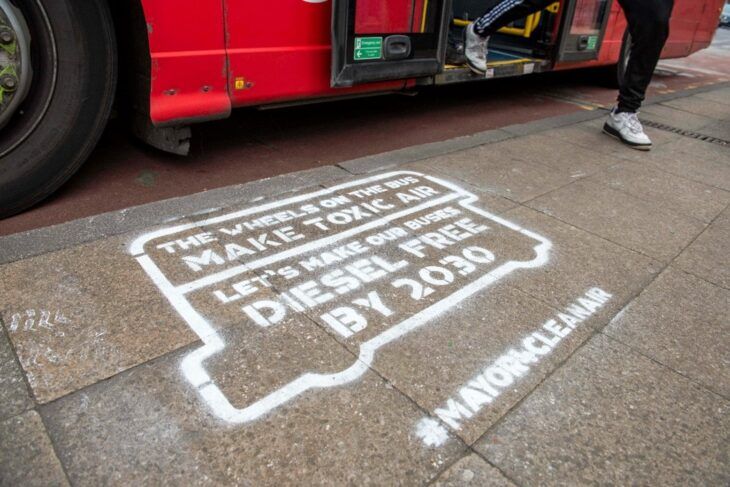 The impact
The local campaign activities and the publication of air pollution data resulted in over 30 air pollution stories across TV, print and online media, reaching approximately 107 million people. On election night, the BBC reported that air pollution was number four on the 'to do' list of the incoming mayor. After being re-elected to office, the Mayor of London, Sadiq Khan, acted on all three of the coalition's asks:
Red routes fining policy: In August 2021, Transport for London (TfL) proposed increasing fines on the Red Routes – the first increase in a decade – to make these roads "cleaner and less congested for everyone". In December 2021, the mayor released a new emissions inventory and, for the first time ever, the report went into detail scrutinising progress on the red route network, acknowledging the issue.
An expanded ULEZ: The expanded ULEZ was launched in October 2021 and a consultation for a further expansion of the ULEZ is underway.
Zero-emission buses coming earlier: The mayor brought forward the date for launching zero-emission buses from 2037 to 2034 and hosted a summit in September 2021 on accelerating the roll-out of zero emissions buses across England.