Breathe Cities: New initiative to tackle air pollution in cities around the world
Breathe Cities is a new initiative to accelerate progress, break down barriers to action, and ensure communities around the world have access to clean air. The initiative was announced by Michael R. Bloomberg, the UN Secretary-General's Special Envoy on Climate Ambition and Solutions and founder of Bloomberg Philanthropies, and London Mayor and C40 Chair Sadiq Khan.
Almost no urban area has air quality that meets the guidelines of the World Health Organization (WHO). 41% of cities have air pollution over 7 times higher than WHO's recommendation, meaning their residents are breathing dangerously polluted air that can cause a range of health issues such as asthma and respiratory illnesses.
The $30 million clean air initiative is a partnership between Bloomberg Philanthropies, Clean Air Fund and C40 Cities to reduce air pollution that is harmful to public health and the climate. It builds on support already provided by the Children's Investment Fund Foundation.
Funding, technical support, air quality data, community engagement, capacity building and more will be provided to a group of cities to be announced later this year. Breathe Cities will arm these cities with resources and support by focusing on four key pillars: 
Data and Research: Expand the availability of local air quality data through the use of innovative new technologies and research into causes of air pollution to provide local governments with evidence for implementing and enforcing new policies.
Stakeholder and Community Engagement: Engage local campaigns and grassroots organizers to build awareness and support for air quality action, especially for communities most affected by air pollution. 
Technical Policy Assistance: Support local governments and city halls to develop and deliver clean air policies by providing technical assistance and capacity building to support policymakers in identifying and implementing solutions.
Lesson Sharing: Share learnings across cities to help other cities to act. 
Clean air is a fundamental necessity for everyone to live, grow, and thrive. That is why we are proud to partner with Bloomberg Philanthropies and C40 Cities, to tackle air pollution in cities across the world. By advancing action at the local level, promoting new data and technologies, and building a robust network to share valuable lessons along with fostering community cohesion, we are collectively empowering cities to improve air quality and address one of the greatest public health problems of our time. Together, we can create a future where everyone can breathe clean air.

Jane Burston, Executive Director, Clean Air Fund
Breathe Cities builds on existing efforts led by Bloomberg Philanthropies and the Clean Air Fund in the cities of Brussels, Jakarta, London, Milan, Paris, and Warsaw to track air pollution and shape public advocacy and policy measures to reduce pollution, and C40 efforts to increase global commitments to clean air, support mayors in implementing ambitious air quality actions, and create forums for mayors and city staff to scale solutions. With a clear blueprint for achieving clean air in cities, Breathe Cities will support local governments and their communities to bring policies and solutions to life.
"The difference between clean and polluted air is a matter of life and death for so many," said Rosamund Adoo-Kissi-Debrah CBE, World Health Organization advocate for health and air quality and founder of the Ella Roberta Family Foundation. "Millions of people are living with the health consequences of breathing dirty air — asthma, cancer, autoimmune diseases, miscarriages, and more noncommunicable diseases. While there is still more to do, we have made progress improving air quality in London and I applaud this new effort from Mayor Khan and partners to bring the tools that have benefitted London to other cities around the world. No matter where you live, you deserve to breathe clean air, it is a social justice issue as we don't all breathe the same air."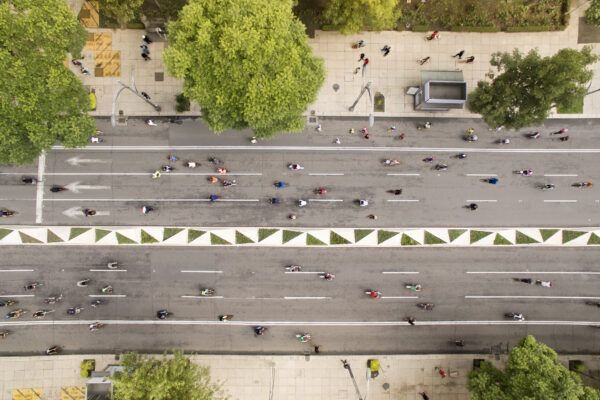 5 ways cities are cleaning the air we breathe